Estratégias de enfrentamento para mitigar o efeito da pandemia de COVID-19 na renda familiar agrícola no estado de Osun, Nigéria
Palavras-chave:
Agricultura familiar, famílias de agricultores, táticas de sobrevivencia , receitas, COVID-19
Resumo
A renda de famílias agrícolas com baixo status socioeconômico é uma tarefa em nações emergentes, incluindo as áreas rurais da Nigéria. Além disso, a entrada da pandemia de COVID-19 representou um grave risco para a economia dessas famílias. Este estudo, portanto, investiga as estratégias de enfrentamento na mitigação do efeito da pandemia de COVID-19 na renda das famílias de agricultores. Os dados para o arti go foram coletados a partir de 150 famílias de agricultores, por meio do método de amostragem multi -estágio, com o uso de entrevista agendada e analisada por meio de estatística. Os resultados mostraram que 57.3% dos entrevistados eram do sexo masculino. As estratégias de enfrentamento amplamente praticadas durante a pandemia foram por ordem decrescente racionamento de gastos (x̅ = 2,63), diversificação de empregos (x̅ = 2,40), redução de mão de obra contratada (x̅ = 2,36), racionamento de alimentação domiciliar (x̅ = 2,28), entre outras. Há relação substancial entre tamanho do domicílio (r = 0,075, p = 0,003), renda anual (r = 0,033, p = 0,004) e estratégias de enfrentamento prati cadas em p≤0,005. Concluiu-se que a pandemia teve grande efeito na renda das famílias de agricultores. O estudo recomenda a formulação de políticas necessárias, eficazes e urgentes, como rede de assistência social adequada,
fornecimento de materiais de auxílio, juntamente com melhorias na assistência alimentar e perspectivas de geração de receita para as famílias afetadas, a fim de amortecer o efeito negativo da pandemia em sua renda.
Referências
ADELOYE, K.A.; AJAYI, A.O.; SOTOMI, A.O. Effect of Leventis Foundation Youth Agricultural Empowerment Programme on Trainees' Food Output In Osun State, Nigeria. Cercetări Agronomice în Moldova, Iaşi, v.53, n.2, p.207-216, 2020. DOI: 10.46909/cerce-2020-018.
AYINDE, J.O.; TORIMIRO, D.O.; OYEDELE, D.J.; ADEBOOYE, C.O.; DEJI, O.F.; ALAO, O.T.; KOLEDOYE, G.F. Production and Consumption of UIVs among men and women: Evidence from Southwest Nigeria. Ife journal of Agriculture, Ile-Ife, n.26, p.101-110, 2016.
BALDE, R.; BOLY, M.; AVANYO, E. Labour Market Effects of COVID -19 in Sub-Saharan Africa: An Informality Lens From Burkina Faso, Mali and Senegal. Maastricht: United Nations University - Maastricht Economic and Social Research Institute on Innovation and Technology (MERIT), 2020. Avalaible on: https://ideas.repec.org/p/unm/unumer/2020022.html Acessed on: 24 jul. 2021.
CELIK, B.; OZDEN, K.; DANE, S. The Effects of COVID-19 Pandemic Outbreak on the Household Economy, Journal of Research in Medical and Dental Science, Jamnagar, v.8, n.4, p.51-56, 2020.
FULLANA, M.A.; HIDALGO-MAZZEI, D.; VIETA, E.; RADUA, J. Coping Behaviors Associated with Decreased Anxiety and Depressive Symptoms During the COVID-19 Pandemic and Lockdown. Journal of Affective Disorders, Amsterdam, v.275, p.80-81, 2020. Doi: https://doi.org/10.1016/j.jad.2020.06.027.
GIDEON, O.I.; ALLI, O.J.; IFEOMA, M.E.; OBINNA, C.O.; LINDA, O.E.; FOLASADE, A.A.; NWABUMMA, C.A.; ABDULAFEEZ, S.M.; HANNAH, C.E.; OLUWADAMILARE, E.K.; CYNTHIA, C.O.; UCHECHI, P.O.; LINDA, E.O. Food Consumption and Coping Strategies of Urban-Households in Nigeria During the COVID-19 Pandemic Lockdown. World Nutrition, London, v.11, n.3, p.35-50, 2020.
HISTORY. Pandemics That Changed History: As human civilizations rose, these diseases struck them down. History. New York, 2021. Disponível em: https://www.history.com/topics/middle-ages/pandemics-timeline. Acesso em: 10 dez. 2021.
JAMISON, D.T.; GELBAND, H; HORTON, S; JHA, P; LAXMINARAYAN, R; MOCK, C. N.; NUGENT, R. Disease Control Priorities: Improving Health and Reducing Poverty. 3. ed. In: SUN, J.; HE, W.; WANG, L.; LAI, A.; JI, X.; ZHAI, X.; MADHAV.; OPPENHEIM, B.; GALLIVAN, M.; MULEMBAKANI, P.; RUBIN, E.; WOLFE, N. Pandemics: Risks, Impacts, and Mitigation. Washington, DC: World Bank, 2020.
JONES, K.E.; PATEL, N.G.; LEVY, M.A.; STOREYGARD, A.; BALK, D. Global Trends In Emerging Infectious Diseases. Nature, London, v.451, n.7181, p.990–93, 2008.
KOOS, C.; HANGOMA, P.; MÆSTAD, O. Household Wellbeing and Coping Strategies in Africa During CO VID -19: Findings From High frequency Phone Surveys. Bergen: CMI Report, 2020.
LOVELACE, B. World Health Organization Names the New Coronavirus: COVID-19 2020. CN BC, New Jersey. 11 fev. 2020. Disponível em: https://www.cnbc.com/2020/02/11/world-health-organization-names-the-newcoronavirus-covid-19.html. Acesso em: 12 jun. 2021.
MUKAILA, R.; FALOLA, A.; OMOTESHO, O.A. Food security status: its drivers and coping strategies among vegetable
farming households. Cercetări Agronomice În Moldova, Iaşi, v.53, n.4, p.414–425, 2020. DOI: https://doi.org/10.46909/erce-2020-035.
NIGERIA. NATIONAL BUREAU OF STATISTICS. NBS Demographic Statistics Bulletin. Abuja: National Bureau of Statistics, 2018.
OECD – ORGANISATION FOR ECONOMIC COOPERATION AND DEVELOPMENT. The Role of Agriculture and Farm Household diversification in the Rural Economy: Evidence and Initial Policy Implications. Paris: OECD, 2009.
OKIDIM, I.A.; EGWUE, L.O.; EKINE, D.I.; CHUKUIGWE, E.C. Rural Households' Food Insecurity and Coping Strategies During COVID-19 Pandemic in Enugu State, Nigeria. Journal of Asian Rural Studies, Makassar, v.5, n.2, p.126-13, 2021.
OMONONA, B.T.; OBISESAN, A.A.; AROMOLARAN, O.A. Health-Care Access and Utilization Among Rural Households in Nigeria. Journal of Development and Agricultural Economics, Mashhad, v.7, n.5, p.195-203, 2015.
OMOTOSO, A.B.; DAUDA, A.S.; ADEBAYO, R.A.; OMOTAYO, A.O. Socioeconomic Determinants of Rural Households' Food
Crop Production in Ogun State, Nigeria. Applied Ecology and Environmental Research, Budapest, v.16, n.3, p.3627-3635, 2018.
OVWIGHO, B.O. Factors influencing involvement in non-farm income generating activities among local farmers: The Case of Ughelli South Local Government Area of Delta State, Nigeria. Sustainable Agriculture Research, Ontario, v.3, n.1, p.76–84, 2014.
SUMNER, A.; HOY, C.; ORTIZ-JUAREZ, E. Estimates of the Impact of COVID -19 on Global Poverty. Helsinki: United Nations University World Institute for Development Economics Research, 2020. DOI: https://doi.org/10.35188/ UNU-WIDER/2020/800-9.
WALKER, P.G.T.; WHITTAKER, C.; WATSON, O.J.; BAGUELIN, M.; WINSKILL, P.; HAMLET, A; et al. The Impact of COVID-19 and Strategies for Mitigation and Suppression in Low- and Middle-Income Countries. Science, New York, v.369, p.413–422, 2020.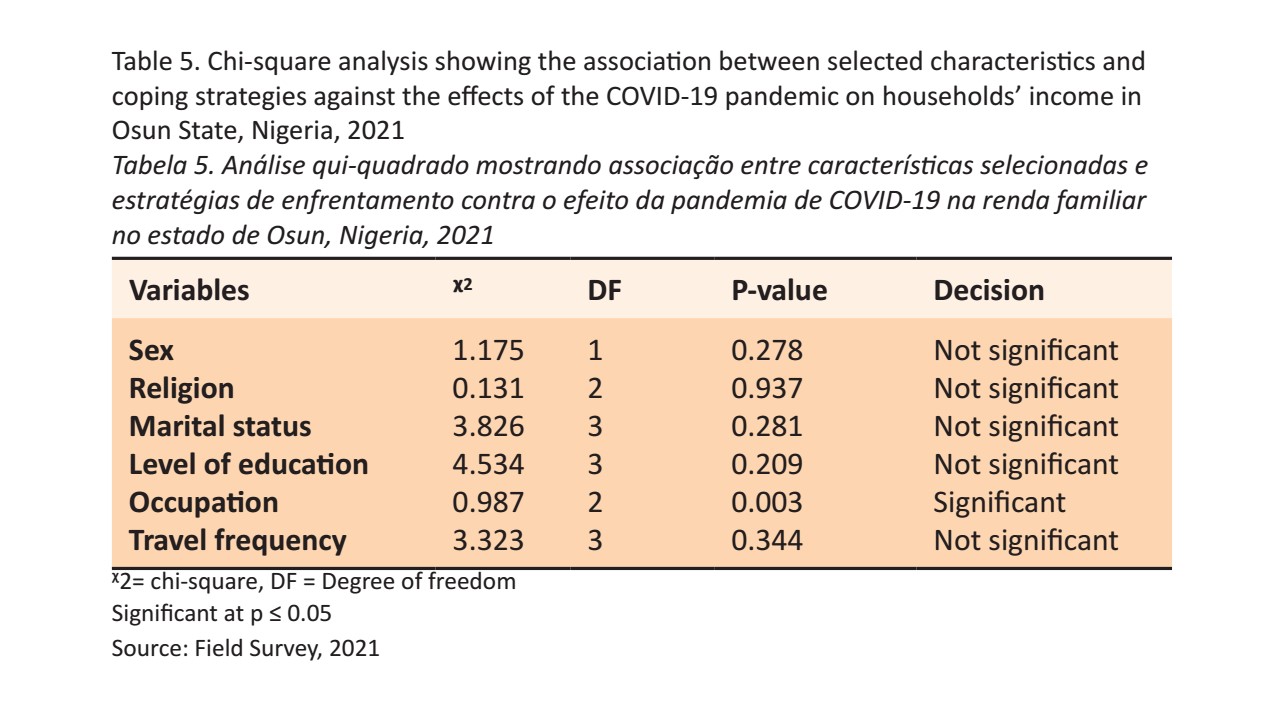 Downloads
Como Citar
Adeloye, K. A., Torimiro, D. O., & Olufemi, D. S. (2023). Estratégias de enfrentamento para mitigar o efeito da pandemia de COVID-19 na renda familiar agrícola no estado de Osun, Nigéria. Agropecuária Catarinense, 36. Recuperado de https://publicacoes.epagri.sc.gov.br/rac/article/view/1523
Licença
Copyright (c) 2023 Kolawole Adelekan Adeloye, Dixon Olutade Torimiro, Damilare Samuel Olufemi
Este trabalho está licenciado sob uma licença
Creative Commons Attribution 4.0 International License
.